Looking at 2017's hairstyle developments and trends, the freedom of creativity was striking. The Ladies showed everything from slick to curly, from braided to twisted, and from rhinestone covered to just plain.
Advertisement
[pro_ad_display_adzone id="5759"]
To help you get a grasp of the diversity and to provide you some more straight-forward inspiration for your next comp-look, I have it here for you – neatly put together in a list: Every hairstyle that shines brightest on the 2017/2018 dancefloor! Let it inspire you and provide you with some ideas that will add just the right touch to your next competition-style!
Let's start with the Ladies: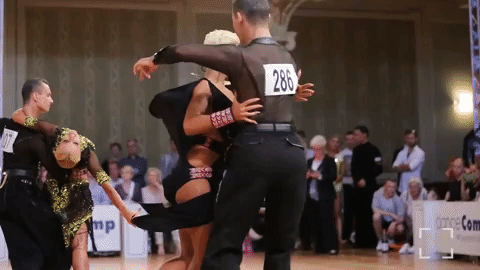 Sleek Short Hair
We still see a lot of girls with pixie cuts. So that trend has not yet faded, but more and more ladies slick their hair back or drape it artfully on their head. Lots of gel and hairspray is used to create a strong look that underlines facial features and directs the focus of the viewer to eyes and lips and away from the flying hair. Platinum blonde seems to be the favorite color when it comes to this style, as we see on Kristina Moshenska and Sandra Sorensen. What Joanna Leunis has been rocking for years is now becoming popular in WDSF amateur dancesport. Who would have thought…?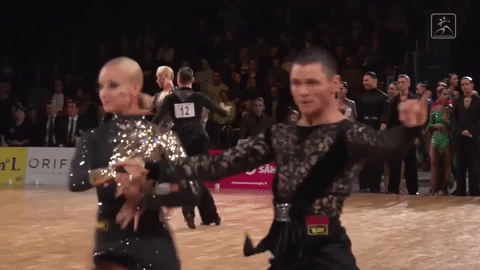 The Melnikova-Bun
When I see this hairstyle, it reminds me of the great performances of Anna Melnikova and that is why I like to call it the Melnikova-Bun. The sleek bun is the queen of latin hairstyles and of simplicity: Hair pulled back into a low bun, perfectly clear. There are no additions, like waves, braids or rhinestones. This year, the more "traditional" hairstyle seems to be celebrating a revival, altthough it has never been "gone". More and more girls come back from their Pixies or French Bobs and relive their early years in dancesport with the perfectly styled, tightly slicked back hair with no flyaways allowed whatsoever.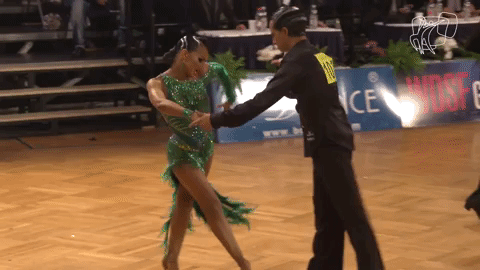 The "Finger Wave"
I am personally a great fan of this hairstyle, because it makes your look elegant, feminine and sophisticated and it takes away the "my-forehead-is-huge"-feeling, that I always have with the Melnikova-Bun. What I am talking about, is the neatly laid out front section of hair in form of a wave, reaching from the forehead to the back of the head. Finger waving was in style in the 1920s and 30s and is now blooming in dancesport. It looks classy, but still has the flavor of cheeky and also works great on short hair, especially to pimp the previously mentioned sleek look. If you want your own "Finger-Wave"-Wave, I would suggest you just take a look at different Youtube-Tutorials and practice a little bit before the competition. Trying this for the first time on competition day (like everything else), might get you in serious trouble.
Braids
Not only in Dancesport, but also in Everyday-Fashion, braids have become a fashion-statement. Indeed, on the dancefloor braiding your hair is a great tool to make things more interesting, to add some detail and to create a more edgy look. There is really no end to creativity, when it comes to braids. Let me tell you, going wild with braids is stylish at the moment! The cornrow-look (where all your hair is braided in rows from front to back) is one of the hairstyles that guarantees attention. I never had this look myself, but I imagine it to be very comfortable. Definitely have to give it a try soon! Anastasia Novikova rocked that look at the Grand Slam in Stuttgart this year. But since cornrows are a more exotic look, it is also very understandable, if you don't want to go full on straight away. Just having a braided bun is also very stylish. Here, the hair on top of the head is neatly styled back and then the bun is consisting of braids. Very nice are also "Braid-Crowns", which is a similar look to the Finger-Wave, but the hair is braided across the forehead or back.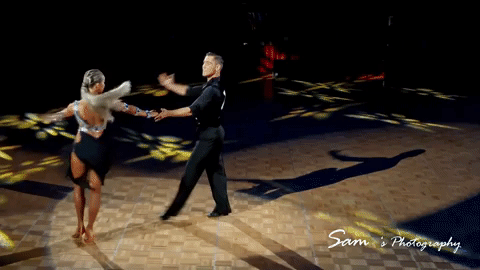 Ponytail with a Twist
Another very popular hairstyling is the ponytail with a twist: Long hair in the back and something fancy on top of the head. Very often the top hair is twisted to the back, so it gives a very textured, interesting look, almost as if the hair comes in stripes or in different layers. This look of course also goes well with a bun. If you are interested in spicing up your ponytail, you could think about dying the ends in a different color, like Louise Heise and Anna Matus did.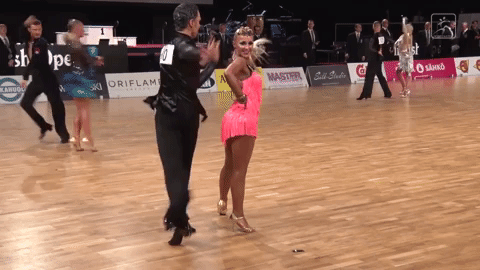 The Queen's Crown
Another very common hairstyle has become the "Crown". Basically it means: Whatever you think is beautiful – put in on your head. Whether it's your own hair draped on top of your head, rhinestones glued on or some fancy headband, go for it! Especially, rhinestones have a "Crown" comeback. Braids, twisted rope styles, finger waves are being decorated with stones. Often hair partings are pimped with rhinestones or ribbons. Again here, creativity knows no limits, but be careful to not overdo it. It has to be well thought through, because if it is not quite right, it takes the viewer's focus off the dance. Then the blinking thing on the head is all there is left to see. If you wear it right though, you literally look like a queen!
The Gentlemen's choices: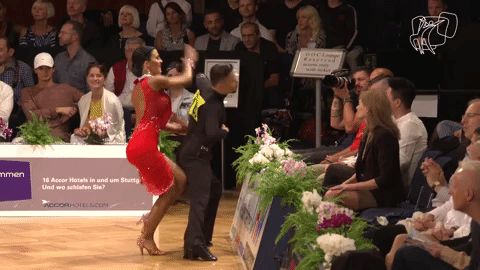 Classic to an Undercut + "Can you feel the air tonight?"
The military undercut is the general theme for men's hair in 2017. The hair around ears and neck is cut short and left much longer towards the top of the head, where it adds volume and can be shaped. In contrast to what we have seen for years now, the hair on top is often more loosely styled. Personally, I think, it's great to see that some men let their scalp at least get a little air and that the helmet look is slowly, but surely making its way off the floor.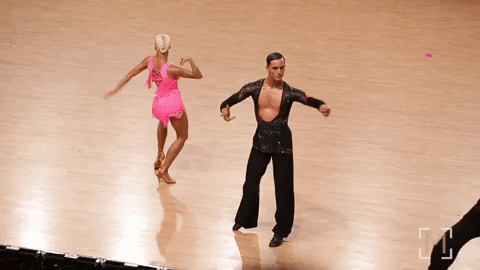 The "Parting" Party
What previously has been more common in Ballroom, now latin guys are also celebrating: the parting. Hair is not as often slicked to the back anymore, but parted sideways or even in the middle. It gives a more elegant, maybe less "macho" feeling, but often suits the Gentlemen quite well and underlines pretty faces. Timur Imametdinov, Gabriele Goffredo and Marius Balan are great examples. Don't you agree?
What do you think? Did I miss anyone?
Author: Sophia Wedel
Cover Photography: Maggiore Fotografico
Exclusively for Dance Comp Review